A Golden Source For Crypto Data
Similar to a Security Master for traditional assets, DAR's Reference Data Master is your single source for all data related to crypto assets, derivatives, and exchanges. Leverage our data to:
– Easily track crypto assets across all systems and exchanges using unique identifiers (including SEDOLs) for each asset
– Establish a data governance framework that identifies data exceptions
– Stay up-to-date in the ever-evolving crypto marketplace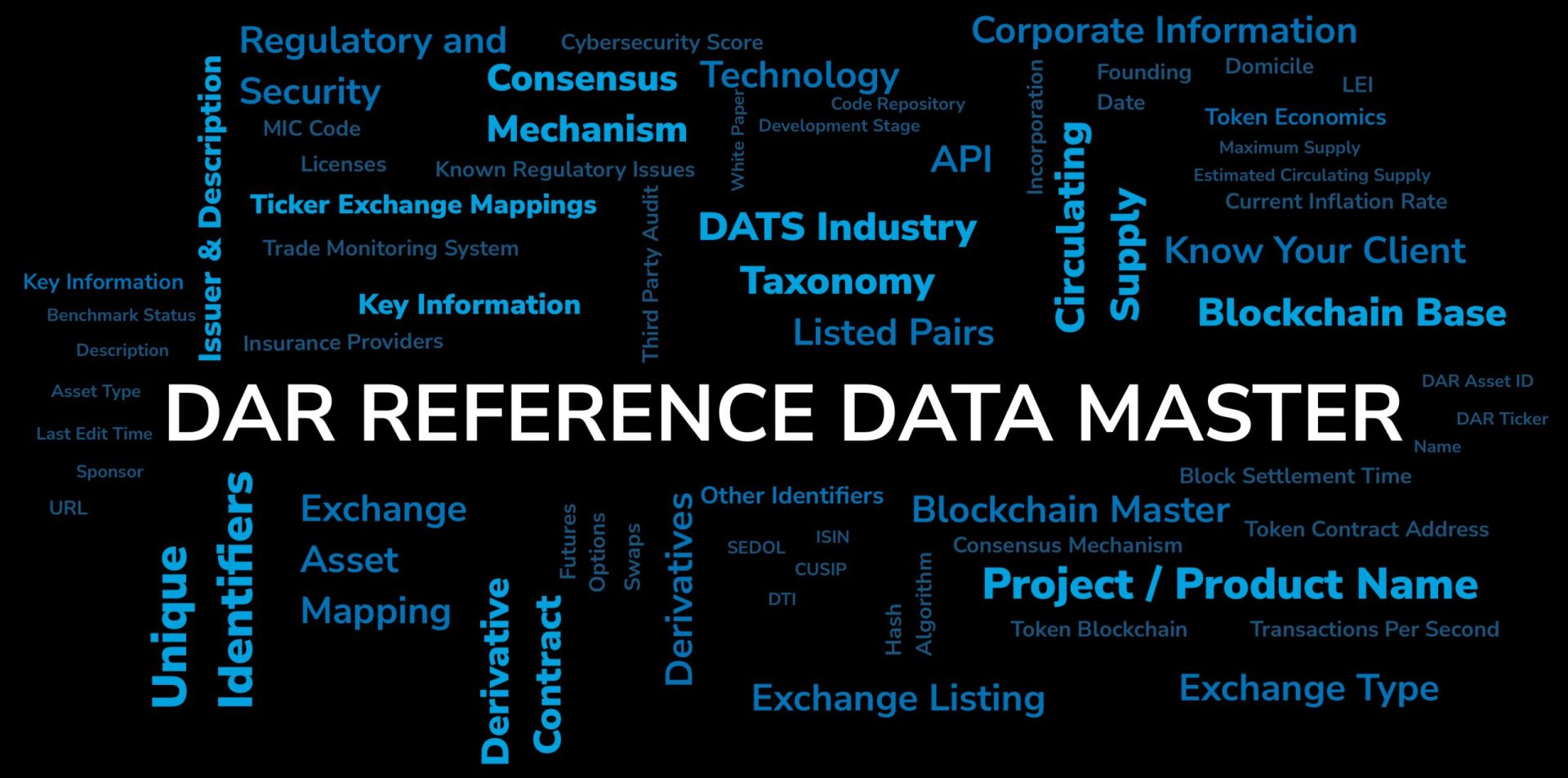 With major public digital assets, associated derivatives, and exchanges all included, The Reference Data Master offers coverage across the cryptoverse.
Our Reference Data Master captures complexities unique to the crypto market, like details on the project that overseas the asset, the asset's benchmark and vetting status, and the asset's taxonomy classification.
With an available API and CSV, XLS, and XML files ready for delivery via email or FTP, you choose the format that matches your needs.
An Organized Cryptoverse
The Digital Asset Taxonomy System (DATS), developed in partnership with the Wilshire Digital Assets Advisory Group, was designed from the bottom-up to capture the nuances of the digital landscape. The result is a comprehensive taxonomy that classifies assets into 3 Supersectors, 10 Sectors, and 42 Subsectors based on use case, underlying technology, and other differentiators.
Explore What DATS Can Do For You
Designed to support changes and growth in digital asset markets, DATS is for:
– Asset Managers and Research Analysts: Sector exposure analysis, strategy execution, and attribution reporting
– Data Providers: A reference data map allowing systems to categorize, manage, and follow digital assets by classification
– Exchanges Globally: Categorize listed digital asset technologies
– Thematic Investing: Classification scheme to identify digital assets with common underlying attributes and aid in bespoke portfolio construction
Our Industry Taxonomy classifies over 1,500 digital assets that exist within public blockchains.
Like classification systems used in equity markets, our Industry Taxonomy includes Supersector, Sector, and Subsector resolution tiers.
To license the DATS Industry Taxonomy, contact info@digitalassetresearch.com
Take advantage of our Reference Data Master.