Comprehensive and objective diligence on over 300 digital asset exchanges
Comprehensive and Objective Exchange Diligence
Determining which digital asset exchanges offer reliable pricing and trustworthy transactions is a major challenge for market participants. Over 300 exchanges operate across a lightly regulated and globally fragmented landscape where market manipulation is a top concern. Each exchange has its own policies related to security, technology, compliance, and oversight, which makes evaluating exchanges complicated.
We provide exchange diligence solutions that inform and empower market participants. Use our standard methodologies or a bespoke solution to choose the exchanges that are best suited to your purposes.
DAR does not accept digital asset exchanges as clients to protect against bias in our exchange diligence solutions.
We follow transparent and objective processes when evaluating digital asset exchanges. Quantitative and qualitative criteria are used to determine whether an exchange meets institutional diligence standards and offers a price that reflects economic trading between real buyers and sellers.
DAR Exchange Vetting Methodology
Our DAR Exchange Vetting Methodology aims to create a robust reference price that is used in our Clean Pricing Data and encourage best practices by gathering, recording, and comparing a series of quantitative and qualitative data points related to digital asset exchanges.
Our methodology includes two phases:
Preliminary Vetting, which considers data points sourced from publicly available facts, regulatory filings, published policies, news reports, reported volumes, and more
Comprehensive Vetting, which includes a due diligence process that the exchange participates in and data science assessments that evaluate if the exchange

is accurately reporting trading volume between real users and not engaging in, or allowing users to engage in, wash or other non-economic trading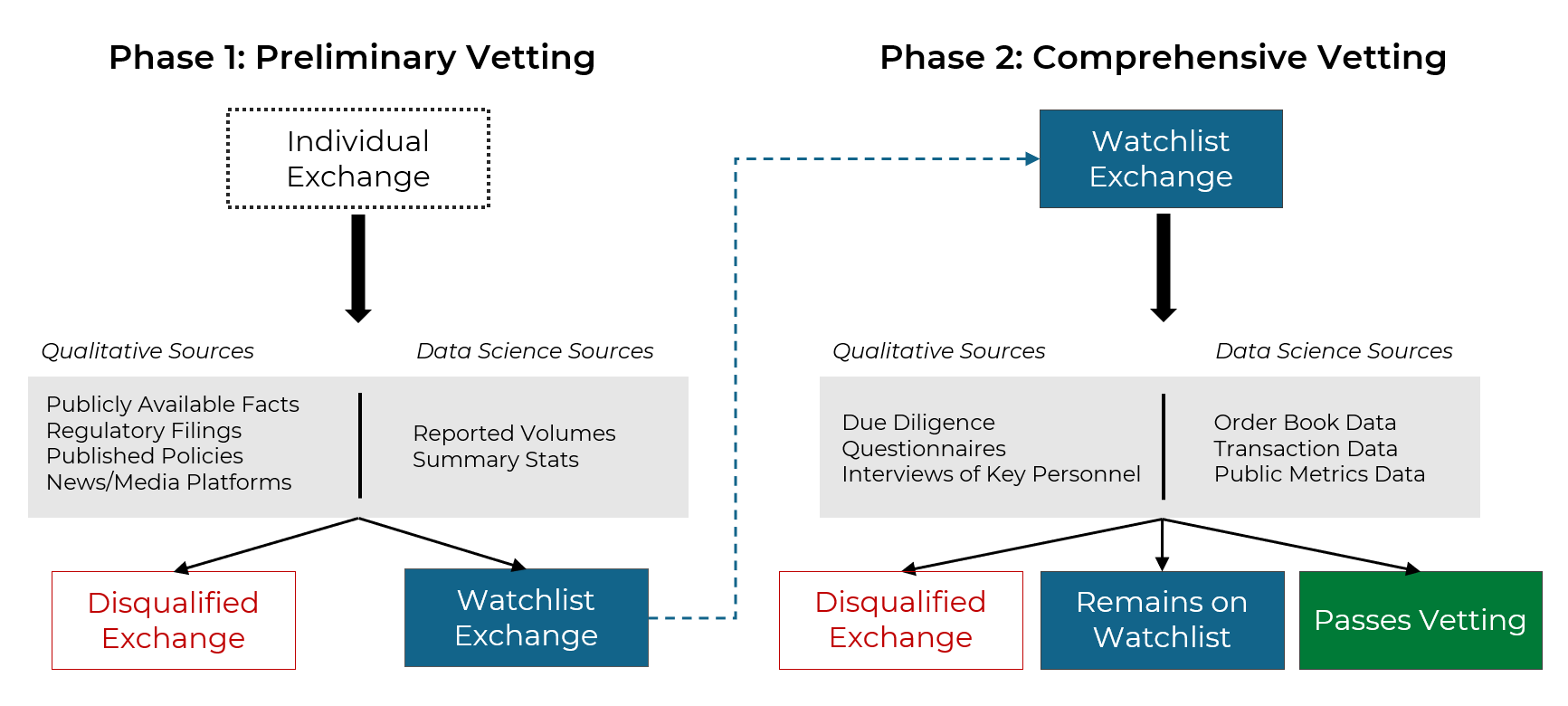 Custom Exchange Vetting Solutions
We partner with clients to develop and deliver custom exchange vetting solutions that meet their unique needs. Leverage a bespoke exchange vetting methodology to select exchanges that meet your requirements for geography, token availability and liquidity, regulatory compliance, and more.
The global, opaque nature of digital asset markets makes seeing where price discovery is happening and how specific exchanges influence price formation challenging. DAR offers price discovery analysis solutions that help market participants understand how exchanges impact price discovery in the broader market.
Our quarterly Lead-Lag analysis on BTC spot price discovery provides insight on where price discovery is occurring, and shows what effect, if any, exchanges with inflated volume or manipulated prices have on the price of Bitcoin derived from trustworthy, vetted exchanges.
We also perform custom price discovery analysis for clients based on asset type or exchange requirements.
Our comprehensive exchange profiles provide key diligence details and census information on 200+ of the largest exchanges by volume.